Live Long and Prosper!
For the last month or so I have been focused on the twin problems of inactivity and obesity.   Today I want to turn the tables on these problems and ask what we know about people who live a long time and remain independent.
It turns out a lot is known about who makes it into their later 80s, 90s or 100.   In other words who lives a long time and remains independent and engaged in life   One of the first people to study this topic was Dr. Lester Breslow who died earlier this year at age 97.   His obituary in the Lancet pointed out that he was a pioneer in public health showing that:
"45-year-olds who adopted six healthy habits—exercise, non-smoking, weight control, adequate sleep, moderation in alcohol use, and breakfasting well—lived longer than people with three or fewer healthy habits."
Midlife fitness is also important because it reduces the burden of chronic disease as people age and limits the slow drift into disability and functional limitations seen in many older people.    So if you want to be a vigorous older person, be a vigorous middle-aged person.
One of the most interesting studies on this topic comes from the Honolulu Heart Project that has followed about 8,000 Japanese American males born in the early 1900s.  The study started in the middle 60s and has found that only a couple of factors explain who lives a long time and who remains healthy.  Recently the more than 2,000 men who are still alive were studied and it was found that:
"Compared with people who died at the age of ≤79 years, centenarians belonged 2.5 times more often to the highest third of grip strength in midlife, were never smokers, had participated in physical activity outside work, and had a long-lived mother (≥80) Associations for nonagenarians (90 year olds) and octogenarians (80 year olds) were parallel, but weaker.  Statistical modeling showed that mother's longevity and offspring's grip strength operated through the same or overlapping pathway to longevity. High midlife grip strength and long-lived mother may indicate resilience to aging, which, combined with healthy lifestyle, increases the probability of extreme longevity."
Clearly we can't pick our mothers, but we can chose not to smoke and to remain physically active.   Studies of the Seventh Day Adventists in California who have incorporated the ideas outlined above also live long lives and remain independent into old age.  The slide below show that Adventist men live about 7-8 years longer than other men in California, for women it was about 4-5 years.  About 70% of Adventists men make to age 80 but only 40% of the male population as a whole makes it to age 80.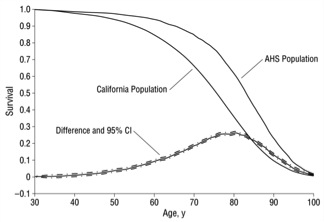 Summary:  Dr. Breslow was right a few simple behaviors can have a big impact on both how long we live and how well we live.
This entry was posted on Thursday, September 20th, 2012 at 6:05 am and is filed under Current Events, Physiology, Research and Health. You can follow any responses to this entry through the RSS 2.0 feed. You can leave a response, or trackback from your own site.
4 Responses to "Live Long and Prosper!"
Jim says:
Sheila Ray says:
Lyn says:
Leave a Reply
LIKE MIKE

SUBSCRIBE TO RSS

GET NEW POSTS BY EMAIL

Pages

Categories

Archives