Aging: Just the Facts
A couple of posts ago I showed you a pie chart of what the US Federal Government spends money on and more than 50% of the total goes to Social Security and Medicare — people who are mostly over 65.  This means that our aging population is driving much of the pressure on the budget and will be central to the debate about spending and taxes that continues now that the election is over.  That having been said, I think it is essential for us all to have some appreciation of why aging is going to be such a big challenge.   The chart below comes from something on the history of Social Security and shows how many people made it to 65 and how long they lived on average after they made it to 65.  It starts in 1940 and ends in 1990.
  
Percentage of Population Surviving from Age 21 to Age 65
Average Remaining Life Expectancy for Those Surviving to Age 65
 
Male
Female
Male
Female
1940
1950
1960
1970
1980
1990
53.9
56.2
60.1
63.7
67.8
72.3
60.6
65.5
71.3
76.9
80.9
83.6
12.7
13.1
13.2
13.8
14.6
15.3
14.7
16.2
17.4
18.6
19.1
19.6
When you update the data in this chart for 2010, it turns out that about 84% of men and 89% of women now make it to 65.   The next figure shows that people live even longer now after they make it to 65.   The average man who makes it to 65 lives another 16-17 years and for women it is about 19 years.   These numbers are projected to continue to rise for both sexes.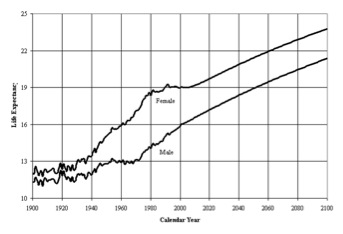 When you put all of this together there is going to be a huge increase in the number of people over age 65 as the Baby Boom generation of roughly 80 million people born between 1946-64 ages.    The number of people over age 85 is also going to grow rapidly.   The figure below shows those numbers.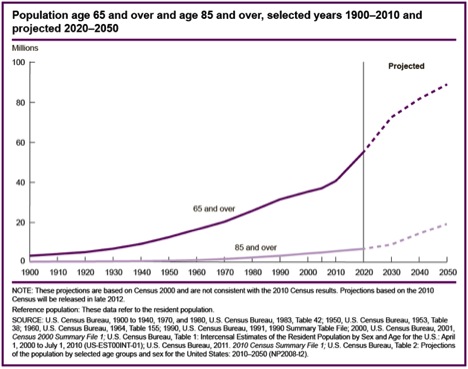 I would argue that however we as society ultimately decide to deal with the budgetary challenges ahead via our chaotic political process, we need to do it in a way that fully accounts for the fact that almost all of us will live to be 65 and many of us will make it to 85 or older.    I am sure there are people reading this who think we should raise taxes and/or spend less on defense to preserve Social Security and Medicare as they are, others who think benefits should be scaled back, others who think things should be privatized, and others who might do some of all of the above.    However, if we are going to do things that both make sense and are politically possible I think we first need a serious dose of demographic reality injected into the discussion.  I hope you find the data above useful.
This entry was posted on Thursday, November 15th, 2012 at 6:12 am and is filed under Current Events, Health Policy. You can follow any responses to this entry through the RSS 2.0 feed. You can leave a response, or trackback from your own site.
One Response to "Aging: Just the Facts"
Leave a Reply
LIKE MIKE

SUBSCRIBE TO RSS

GET NEW POSTS BY EMAIL

Pages

Categories

Archives