Women's Marathon Explosion!
This Sunday the Women's Marathon will be run in London.  Until 1972 the longest Olympic running event for women was 800m.  In 1972 the 1500m was added and in 1984 the first Olympic Marathon for women was conducted.   The program now parallels that for men:  3000m steeplechase, 5000m, 10,000m, and Marathon.
The chart below from the marathonguide.com site shows the progression of world and Olympic records for men and women.  You will note that there are no women's records until the late 1960s. Before that a number of women "snuck into" various marathons starting in the 1920s, but nothing was official until the late 1960s.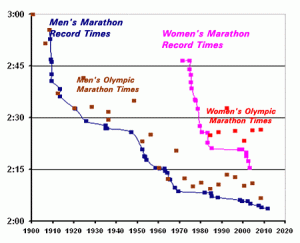 Once women were allowed to compete their times dropped quickly as they adopted the high milage training programs that men were using.  These programs had evolved from about 1900 to 1960.  Women from E. Africa and other parts of the world were also competing at a high level by the 1980s.  So the slow evolution of records and world wide participation experienced by men was compressed for women.
To study physiology in the real world, Sandra Hunter and her team at Marquette University have analyzed results from multiple years of the mega-marathons in Boston, New York, Chicago, Berlin, London and also the World Championships.   This analysis shows that in general, women and men seem to peak in their late 20s, and that women are 10-12% slower than men.   On average, elite women runners have more body fat than elite male runners and they also have less oxygen carrying capacity in their blood.  When these differences are factored into the physiology of elite distance running they are consistent with the time differences noted above.
Another interesting thing is that even in the elite races, the gap between the first and fifth place finisher is greater for women than men.  In a more recent paper, the Hunter team also showed that as women age what might called the "depth gap" widens more for women than men.  One major reason for the widening gap is likely lower participation by women in the older age groups.
Another explanation for the depth has been advanced by Rob Deaner, who argues that a small fraction of men are essentially crazy competitive, train like maniacs and then finish with relatively fast times.   He advances a number of interesting ideas about behavioral genetics that might explain these findings.  However, he also notes that in countries with higher levels of gender equality women account for a greater fraction of success in international competition.
My own view is that we will not be able to answer the nature vs. nurture element of these differences in depth until multiple generations of girls and women have been encouraged to compete in sports at a high level from early childhood.  However, one thing does seem certain; a tidal wave of age group records is coming for women in their 50s and 60s as the women of the title IX generation age up.
This entry was posted on Saturday, August 4th, 2012 at 5:43 am and is filed under Current Events, Elite Sports Performance, Physiology. You can follow any responses to this entry through the RSS 2.0 feed. You can leave a response, or trackback from your own site.
One Response to "Women's Marathon Explosion!"
George Brose says:
Leave a Reply
LIKE MIKE

SUBSCRIBE TO RSS

GET NEW POSTS BY EMAIL

Pages

Categories

Archives