Triangulating Phil Jackson
The news that the basketball coach Phil Jackson is taking over the NY Knicks has focused on Phil-as-Zen-Master and what he can do for a dysfunctional organization that seems devoted to mediocrity.  Part of this discussion includes some contrived controversy about the Triangle Offense, a scheme that he used with great success while coaching the Chicago Bulls and Los Angeles Lakers to 11 NBA championships.   Will Phil hire a coach who runs "the Triangle" and if so, will it work without Michael Jordan of Kobe Bryant?
The Triangle Evolves
My high school team ran the Triangle (known as the Triple Post then) and over four years we won >90% of our games and went to state year after year.   I can still diagram the basic Triangle set and various options that flow from it.   The "inventor" of the Triangle, Tex Winter has called it a "junior high offense" and freely admitted that his ideas about evolved from the scheme he ran under Coach Sam Barry at USC.   Below is a diagram  of what the offense looks like after the first option.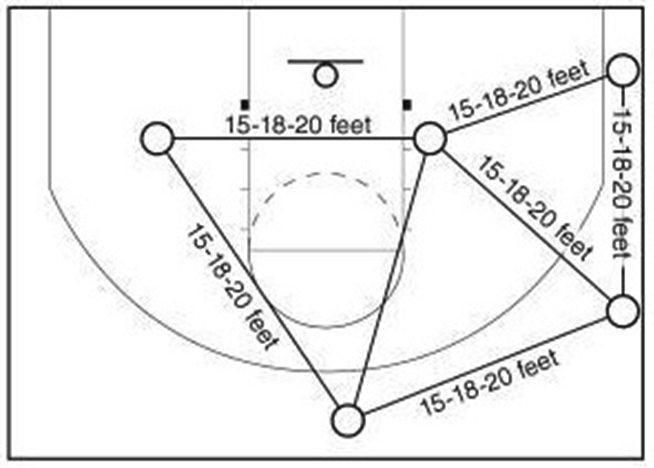 What the Triangle Does
The triangle does a number of things:
It gets everyone involved.
It emphasizes spacing and facilitates passing.
It sets up a series of simple 3 on 3 and 2 on 2 sub-plays that eventually let the offense find a mismatch that leads to a good shot.
It is a framework and is not rigid; each player has reads and options.
It has continuity and there is always a way out and another option.
If you take these five good things about the Triangle and try to apply them in a general context it looks like a pretty good way to manage or lead most things in life……get everyone involved…..facilitate teamwork……look for and leverage small advantages……have a system but be flexible…..don't get in situations where there is no good option.
Only Works for Phil?
One criticism of the Triangle is that it has "only worked" for Phil Jackson who had great players.  While that might be true over the last 20 or so years, the Phoenix Suns led by Winter disciple Cotton Fitzsimmons ran the Triangle in the early 70s and generally over performed with an expansion team.  The other thing that people forget is that in an earlier generation both Alex Hannum and Bill Sharman (who played with for Barry at USC) used elements of the Triangle.  Sharman, who recently died, is one of the greatest athletes and pure shooters to ever play in the NBA, he was a superb coach and is one of only three people in the basketball hall of fame as a player and coach.
Steve Kerr's Final Word
Steve Kerr who was on five championship teams with the Bulls and later the San Antonio Spurs mastered the Triangle as a player.   He had the following comments about the Triangle:
"You can't afford to have the ball in one person's hands. In a way, that is sort of the genius of the offense and the reason it makes it so difficult for a lot of modern-day players to adapt…….It's alarming that so many coaches have tried and not had success, I've had this debate with myself since I've thought about coaching at some point in my life, and if I were to do so at the NBA level, I'm not sure I would implement the triangle. I believe in spacing and ball movement and angles and backdoor cuts and using the defense's pressure against itself. Those are all things the triangle does. But it's a little tricky because it does take time for the players to adapt and really feel confident with it, and one thing NBA coaches don't have is time. If they mess around trying to run the triangle for a year or two and they don't have success, then that's it."
If no one runs the Triangle it is not exactly a threat to Western Civilization, but maybe the fact that no one is running it highlights a world where short term thinking "wins" all too often.
Tags: Phil Jackson, Triangle Offense
This entry was posted on Friday, March 21st, 2014 at 4:47 am and is filed under Current Events, Elite Sports Performance. You can follow any responses to this entry through the RSS 2.0 feed. You can leave a response, or trackback from your own site.
Leave a Reply
LIKE MIKE

SUBSCRIBE TO RSS

GET NEW POSTS BY EMAIL

Pages

Categories

Archives