Too Much Exercise?
Today's post was stimulated by an e-mail exchange with Amby Burfoot of Runner's World on reports over the past few months suggesting that lifelong intensive exercise training might be "bad" and actually increase the risk of heart problems.  The idea is that during exercise adrenaline and related hormones cause the heart to beat faster and harder.  Do this day after day for years and the thinking goes that areas of micro damage might occur.  In addition to leading to small areas of heart damage, there might also be a buildup of calcium in the blood vessels that supply the heart.  So what is the evidence to support these ideas?
First, after extremely prolonged and intense exercise like a marathon or ironman triathlon the pumping ability of the heart can be reduced by a few percent for a few days and there can be a rise in blood levels of substances released from the heart.  However, the pumping function of the heart returns to normal within a week and there is no evidence of long term heart damage.   The blood levels of substances released from the heart also return to normal.  The other tricky thing here is that the skeletal muscles of highly trained athletes undergo biochemical changes that make them more like heart muscle.  The wear and tear on skeletal muscles during a competitive event can then cause a rise in the blood levels of so-called cardiac markers that are in fact released from skeletal muscle and set off all kinds of false alarms about heart damage.
Second, no one is sure exactly what finding calcium in the coronary arteries means in asymptomatic people especially older athletes.   Also, case reports in a few people are hard to interpret and in more controlled studies it appears that the coronary arteries of lifelong ultramarathon runners are a bit bigger than those of non-runners and can also dilate more.   The figure below shows this data, and bigger coronary arteries that relax more are almost certainly a very good thing.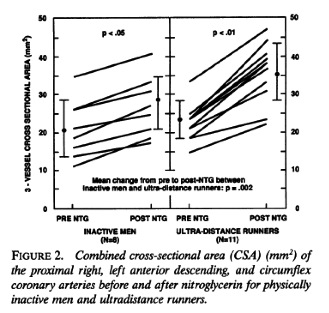 Third, there is some data in animal models that areas of micro damage caused by prolonged intense exercise make the heart more susceptible to dangerous irregular heartbeats.  However, in these studies aversive stimuli (tail shock) were used to get the animals to run so there is the added issue of "mental stress" in addition to exercise.   Also, the animals were doing a training regimen that was truly heroic in terms of both daily duration and intensity and how this translates to what even the most fanatical human might do over 10 or 20 years is unclear.   In other animal models, exercise training tends to protect the heart from irregular beats.
Fourth, when detailed research and data collection is done on who dies during exercise a couple of patterns emerge.  Young people who die suddenly typically have congenital problems with the electrical system in their hearts or defective coronary arteries.   Middle aged and older people typically have evidence of heart disease that in many cases probably started before they became fit or started to train.   There are also cases of heart problems in athletes likely related to acute inflammation of the heart perhaps associated with a viral illness.   However, marathon running as a whole appears to be very safe.
Fifth, all the news is not positive.  There is some evidence that lifelong training is associated with a condition known as lone atrial fibrillation.   However, the data are only suggestive and much bigger and better controlled studies are required on this topic.   This condition while bothersome is typically not life threatening and can be treated.
Perspective:  Over the last few months I have been making the case that one of the biggest public health and ultimately medical problems out there is inactivity.   Is there a cardiac risk associated with being super fit and training a whole lot?  To the extent there is comprehensive and well controlled data the answer appears to be no.  It does appear that in terms of health there are diminishing returns and that people who train "a whole lot" (say more than an hour almost every day) are not  better off than people who just do "a lot" (30-60 minutes most days).  However, people who do a whole lot of training are probably doing it for reasons other than health that include things like a need to compete, a need for time alone, or the need for some sort of big challenge in life.  Not exercising enough is extremely common and dangerous.  By contrast, a life time of exercising "too much" is extremely rare and the evidence to suggest it does long term harm to the heart is pretty speculative.
This entry was posted on Thursday, October 4th, 2012 at 6:11 am and is filed under Physiology, Research and Health. You can follow any responses to this entry through the RSS 2.0 feed. You can leave a response, or trackback from your own site.
8 Responses to "Too Much Exercise?"
Glenn says:
Michael Joyner, M.D. says:
westerndog says:
Ryan says:
Larry Creswell, MD says:
Mark Cucuzzella MD says:
trissa says:
Leave a Reply
LIKE MIKE

SUBSCRIBE TO RSS

GET NEW POSTS BY EMAIL

Pages

Categories

Archives