The Greatest Runner You Have Never Heard Of!
A few days ago I wrote about East African dominance in distance running and discussed the "talent" issue vs. the environmental and cultural factors that make the Kenyans and Ethiopians so good.  However, for people like me who were living and running competitively in the American Southwest in the late 1970s there is an alternate answer to "who will beat the Kenyans?"
In the late 1970s a few of my friends and I traveled from Tucson to Albuquerque, New Mexico to participate in the La Luz trail race up Sandia Peak.  The race was won by Al Waquie of the Walatowa Pueblo of Jemez tribe.  As I recall, he defeated Ric Rojas by 2-3 minutes in a race that lasted about an hour (I think I finished about 15th).  At the time Rojas was among the top ranked 10k runners in the US and seen as a potential heir to Frank Shorter.  Waquie dominated the classic mountain climbs in the West and also won the Empire State Building ascent numerous times.
Waquie is not alone, Native American kids from selected high schools in the Four Corners region like Tuba City have done very well in high school distance running.  And, this is nothing new; in 1912 the great Hopi runner Lewis Tewanima won a silver medal in the 10,000m in an era when runners from Finland were as dominant as those from Kenya and Ethiopia are now.   Like the Kenyans and Ethiopians, the tribes that live in the Four Corners have lived at high altitude for centuries.
Al Waquie is perhaps the most impressive runner I have ever seen and that includes the likes of Alberto Salazar, Frank Shorter, Henry Rono and Bill Rogers.  Most people who saw him in action or raced in the same races he competed in still can't believe what they saw or what he did.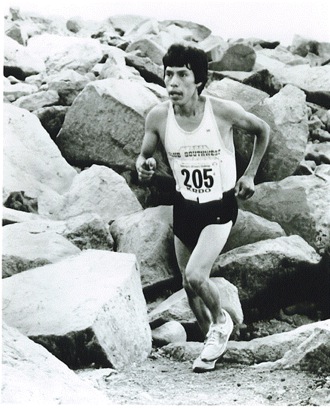 This entry was posted on Friday, August 10th, 2012 at 6:06 am and is filed under Current Events, Elite Sports Performance. You can follow any responses to this entry through the RSS 2.0 feed. You can leave a response, or trackback from your own site.
One Response to "The Greatest Runner You Have Never Heard Of!"
Frank E Heslin, Jr. says:
Leave a Reply
LIKE MIKE

SUBSCRIBE TO RSS

GET NEW POSTS BY EMAIL

Pages

Categories

Archives