Talent & Achievement: Beyond 10,000 Hours!
In my last post I summarized an ongoing e-mail exchange I was having with David Epstein, Terry Laughlin and Amby Burfoot.   The focus of our exchange was on talent in general and the idea the champions are either born and then made or simply made via intense and deliberate practice.  When this topic comes up the first thing that pops into many people's mind is the "10,000" hour rule as popularized by Malcolm Gladwell.  The basic idea is that practice beats talent and that with enough of it "anyone can become world class".   
The conversation is continuing and David got Jonathan Wai involved.  Jonathan is one of the world's leading experts on the nuances of intellectual and creative talent, and it has been fun to get his perspectives.  It is also interesting to see how ideas about talent, practice and achievement in academic and creative fields are the same or different than for sports.  So what have I learned in the last 10 days as the exchange continues?
Dr. Ericsson I Presume?
At least some of the ideas associated with what Terry Laughlin described in our exchange as the "10,000 brand" come from K. Anders Ericsson, a psychologist at Florida State University.  Ericsson is now either back tracking from some of his original ideas or perhaps they were misinterpreted and oversimplified to begin with.  Here are a few caveats to think about:
Many of the groups used to make the 10,000 hour argument are elite or nearly elite to begin with.   So perhaps among the most talented people, more practice makes a difference.
The distribution of practice times to "elitehood" is highly variable and reflects potentially complex interactions between talent, exposure, and what might be called trainability.  Average values rarely tell the whole story.
There are obvious talents like body size, which trump all sorts of things.  You will never find small shot putters or big gymnasts.
For academic and creative efforts there are many parallels with sport.  That having been said kids who do really, really, really well on early tests of academic ability end up (on average) with higher levels of academic and professional achievement later in life in comparison to the merely seriously above average.  Practice and motivation matter but so does talent.
Rage to Master!
One of the more interesting topics that came up is the so-called "rage to master" concept.  The idea is that a very few people are both gifted in a given domain and also develop an early interest in pursuing it like their "hair is on fire".   There are some great examples from the visual art world that include people who draw well early.  There are also well known examples like Picasso.   The image below is the "First Communion" that Picasso painted when he was about 15.   I am not an art historian, but it is pretty clear that he had mastered what might be called classic 19th century European painting at an early age before moving on to his later innovations.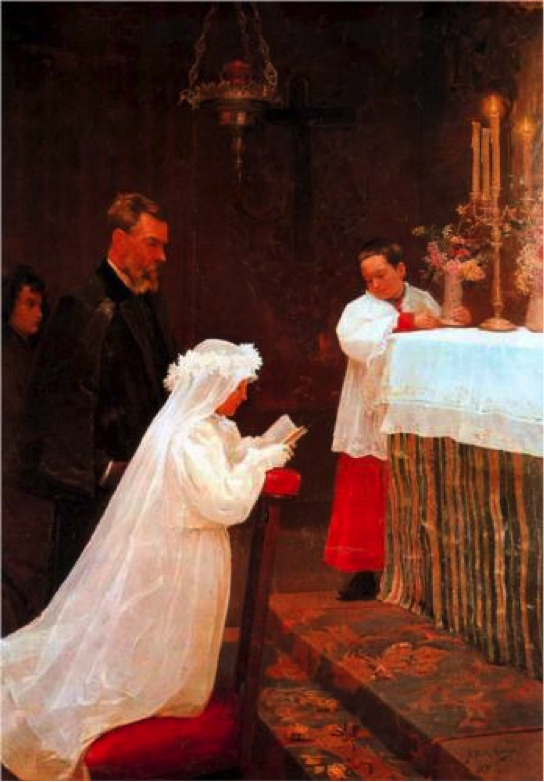 The other interesting thing about highly precocious highly motivated kids is that they seem to "pull" their environment as opposed to being pushed by parents; again their hair is on fire.   David Epstein sees Tiger Woods as a classic example of pull that went along with any physical talent he had plus the early exposure.   It is also easy to see how under the right circumstances all of these factors can amplify each other with success leading to more motivation, more practice, and then more success……..
Go For Broke!
Tiger Woods (at least the Tiger of old) also conjures up what might be described as the "go for broke" mindset.   Amby Burfoot wonders if that is part of the success of the E. Africans in distance running.  They go out hard and push the pace.  Many crash and burn in big races, but if someone is really on that day, and conditions are right then the odds of a breakthrough time improve.   As I thought more about this it occurred to me that one of the reasons Tiger Woods is not as dominant as he once was is that the wave of golfers just behind him (the 20 somethings) saw him go for broke and now all do it.   Thus, on any given day at least someone almost as good as Tiger gets hot and is there to challenge him.
Practice, Practice, Practice
Terry is a very effective advocate of deliberate practice and he has shown repeatedly that technique and skill matter in swimming, and that it is way more than getting in the pool and mindlessly working out.   He sent a link about the 17 year old Ski phenomenon Mikaela Schiffrin.  The story reinforces many of the ideas we have been e-mailing about:
She obviously has some ability and is the perfect size.  The picture in article shows what appear to be powerful legs and a low center of gravity.
She got intensive early exposure but also developed well-rounded athletic skills like juggling while riding a unicycle.
She seems to have the "rage to master" and by master I mean focusing on flawless and efficient technique.
Where to Leave It?
The conversation is continuing, but where to leave it for now?  There are all sorts of pieces of advice that might flow for our discussion but one thing that is for sure is that we have at least some control over our effort and how well we practice.   The story of Mikaela Schiffrin juggling and riding a unicycle along with the observations in last week's post on "sample early and focus " make me think that focusing on general motor and intellectual skills and that mastering a few fundamentals at any age has a lot of merit.   That having been said, here is something about Vince Lombardi explaining his basic plays  in 1965 to center Bill Curry.  Curry was a rookie and Lombardi used nothing more than a yellow legal pad and a pencil:
"Our system is complete, simple, and comprehensive," he went on. "We can attack the whole field. We have very little trickery. We really don't need it.  We win with execution. Something works, not because it's a brilliant piece of strategic or tactical thinking, but because our team has practiced the same plays, the same movements, and the same fundamentals over and over and over again."
How great a teacher was Vince Lombardi? The best way to answer that is to tell you that, 43 years later, I remember each one of the plays he outlined for me that day. I can draw each assignment, make the calls, and teach their installation. I remember the coaching points for the guards, tackles, and tight ends. I remember it all, as if it were yesterday. "
In sports the fundamentals include superior technique, foot work, balance, timing, and conditioning.  Together they are tough to beat.  They can make the gifted elite and permit the rest of us mere mortals to develop high levels of skill and immense personal satisfaction.
Tags: 000 hours, 10, early specialization, rag to master concept, talent
This entry was posted on Wednesday, January 15th, 2014 at 8:00 am and is filed under Current Events, Elite Sports Performance. You can follow any responses to this entry through the RSS 2.0 feed. You can leave a response, or trackback from your own site.
Leave a Reply
LIKE MIKE

SUBSCRIBE TO RSS

GET NEW POSTS BY EMAIL

Pages

Categories

Archives