Secretariat and Non-Human Limits!
The Belmont Stakes horse race will be run this Saturday.  Forty years ago Secretariat won the 1.5 mile race by an incredible 31 lengths.  His time of 2:24 is faster by 2 seconds than the next fastest time posted over the last 40 years.  Some have argued that Secretariat's run at the Belmont in 1973 is the greatest performance in sports history.  The video below shows this remarkable feat.
click here for video 

Last summer during the Olympics I posted a number of videos of people like Bob Hayes and Jim Ryun and also wrote about the role of relaxation and rhythm in sports.  Note the length of the great horse's stride and how little Secretariat's head bobs.  From what I can tell his jockey never uses the whip.  Have you ever seen such power and relaxation at the same time?
Humans Still Getting Faster
One other piece of brain candy related to this is that as a result of selective breeding over several hundred years horses may have reached a plateau in terms of performance.  The figure below is from a fascinating 2008 paper that shows this for the three Triple Crown races.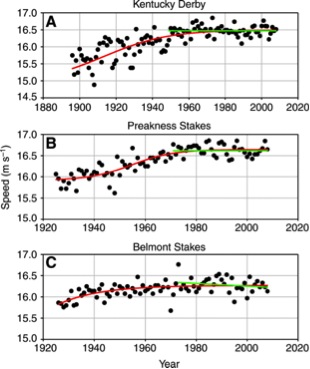 By contrast, the data from humans suggest that we are still getting faster, at least in some events.  The human to animal comparison is confused by major changes in training, technique, equipment, and (unfortunately) doping for humans.  There are also more humans competing at a high level than ever before as the population grows and more people from more countries participate.  Things in horse racing have been relatively stagnant by comparison.  As I mentioned last summer when reasonable assumptions about artificial tracks are made it is unclear if performances are physiologically better now than in the 1960s.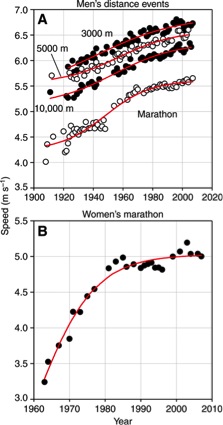 Summary
Thinking about records and the limits of performance is an interesting intellectual exercise that can shed light on all sorts of things and fuel a lot of fun arguments.  Watching a performance like Secretariat's always leaves me with a sense of awe.  I hope you enjoy it as much as I do.
This entry was posted on Thursday, June 6th, 2013 at 5:39 am and is filed under Current Events, Elite Sports Performance. You can follow any responses to this entry through the RSS 2.0 feed. You can leave a response, or trackback from your own site.
Leave a Reply
LIKE MIKE

SUBSCRIBE TO RSS

GET NEW POSTS BY EMAIL

Pages

Categories

Archives