More Thoughts About Taxing Unhealthy Behavior
Depending on who you believe any long term solution to the fiscal issues confronting the United States will include revenue increases of 800 billion to 1.6 trillion dollars over the next 10 years.   From what I can tell almost all of the discussion about how to raise that revenue focuses on what the well-off will pay.   Will their income tax rates be higher, will their deductions be lower, and will the tax code be revamped so that things like capital gains are taxed at a higher rate?  As someone interested in public health it seems to me that the revenue, and more importantly behavioral changes, associated with sin taxes should be considered in this debate.
All of this adds up to about 650 billion dollars of increased revenue over ten years.   Additionally, there is pretty good evidence that smoking rates, health problems associated with excessive drinking, and perhaps even obesity rates might fall if these taxes were enacted.      For example a 10% rise in cigarette prices typically reduces consumption by 4%.  The sugary beverage tax is estimated to reduce consumption by about 24%, and the alcohol tax is estimated to reduce consumption on the order of 10%.   These behavioral changes would likely have positive effects on health care spending over time. There are also economic arguments about improved productivity and increased spending in other parts of the economy that would flow from things like less smoking and drinking.
One of the major arguments against sin taxes is that they fall disproportionately on the poor.  However, the counter argument is that the positive behavioral changes associated with these taxes would probably disproportionately benefit the poor in terms of improved health over time and more money to spend on other things.   This is especially important because policies that promote positive behavioral health changes in the poor have been difficult to implement and results have been marginal in many cases.
The figure below is from an article on health disparities in 8 socioeconomic groups in the U.S. and shows the role of common behavioral factors in disease burden (for the record I would argue that they grossly underestimated the effects of physical inactivity).  These factors are typically higher in the socioeconomic and racial groups with the worst overall health and lowest life expectancy.  Increased taxes on tobacco, alcohol and foods contributing to obesity would clearly help reduce the burden from the top four or five causes.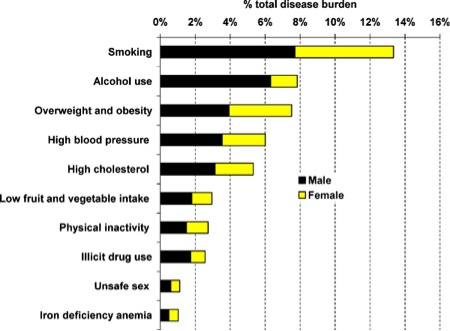 As the article notes:
"Disparities in mortality across the eight Americas, each consisting of millions or tens of millions of Americans, are enormous by all international standards. The observed disparities in life expectancy cannot be explained by race, income, or basic health-care access and utilization alone. Because policies aimed at reducing fundamental socioeconomic inequalities are currently practically absent in the US, health disparities will have to be at least partly addressed through public health strategies that reduce risk factors for chronic diseases and injuries."
That having been said, I would argue that sin taxes should be attractive to liberals concerned about racial and socioeconomic disparities for statistics like life expectancy and other measures of overall health.
Sin taxes should also be attractive to conservatives who typically espouse a preference for policies that promote personal responsibility.   Sin taxes would also help address the current conservative narrative about makers and takers because the increased taxes would tend to fall hardest on states that receive excess federal funds relative to the taxes they pay…..what might be described as "taker" states.
The changes in tax policy that will be made in the coming years have the chance to make things fairer, simpler, more transparent, and perhaps spur economic growth.   The ideas outlined above have the added advantage of improving public health, raising revenue, and perhaps driving health care costs down in the longer run.  Sin taxes also have the opportunity to address both liberal and conservative policy goals, so shouldn't they be part of any solution designed to put our financial house in order?
This entry was posted on Thursday, November 29th, 2012 at 6:17 am and is filed under Current Events, Health Policy. You can follow any responses to this entry through the RSS 2.0 feed. You can leave a response, or trackback from your own site.
5 Responses to "More Thoughts About Taxing Unhealthy Behavior"
Carol Gunderson says:
Jason says:
Paulita LaPlante says:
Leave a Reply
LIKE MIKE

SUBSCRIBE TO RSS

GET NEW POSTS BY EMAIL

Pages

Categories

Archives