Health Care Spending Facts & Sequestration
As part of the political trench warfare over taxes, spending and the long term federal debt the next big hurdle is so called "sequestration" on March 1st.  If the President and Congress can't agree on a combination of spending cuts and tax increases then a series of automatic cuts will take place.  Behind all of this bickering is one simple fact.  Medicare and other federal health care spending has risen from a tiny fraction of the federal budget to about 20% and is slated to continue to grow as the baby boomers retire.   In this post I want to give you some background information via 5 slides that will be useful to frame later discussions about what to do about Medicare in specific and health care in general.   The figure below comes from the Senate Budget Committee and shows key trends and future projections as a % of GDP.   Also remember the U.S. spends a higher fraction of our GDP (about 18%) on health care than any country in the world.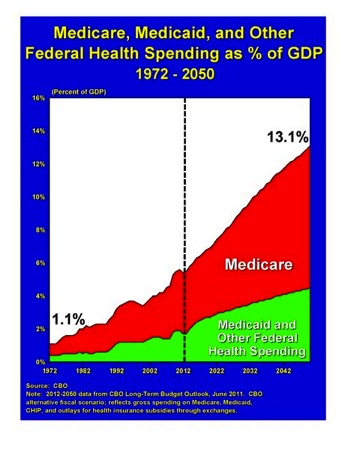 Overall Health Care Spending
The next figure is from a White House report in 2008 (before Obamacare) and it shows what is projected to happen to total health care spending in the U.S. economy well into the future in the absence of significant "reform".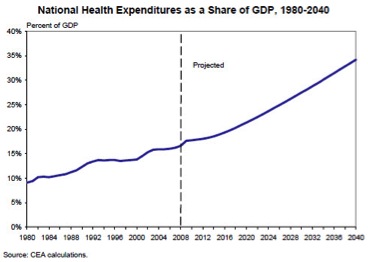 An Unbiased Look at Medicare
For anyone want to take a deep dive into Medicare, the Kaiser Family Foundation has a series of slide shows on Medicare that cover almost every element of the program starting from the late 1960s.  That having been said, I want to share three of the more than 120 slides posted on their website.
Kaiser Slide 1: "The Government" Pays 50% of the Bill.
The first slide is for anyone who has any doubt about just how much of the nation's health care bill is paid for by the "government".  The magic number was roughly 50% in 2010 when you add up all programs (including employee benefits) at every level of government.  So everyone needs to accept the fact the government involvement in health care is here to stay and we need to focus on how to deploy these resources in smarter ways.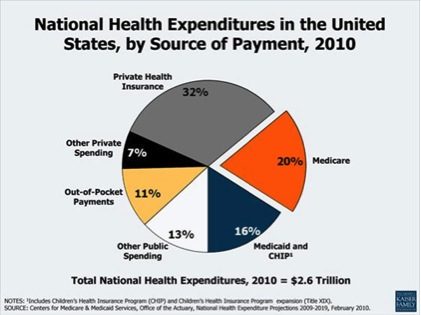 Kaiser Slide 2: Does Obamacare Bend the Cost Curve?
The next slide shows projected Medicare spending until 2019.  The top line was pre Obamacare and the bottom line includes assumptions about costs savings as a result of it.   The key point is that Obamacare does not move the needle that much.  Additionally, the continuous upward trend shown in the 2008 White House slide above suggests that the many efforts at cost containment since 1980 have had limited effects on the growth of spending.   In a later post I will discuss how much things like price controls, bundling, and potentially limiting access to technology have done so far when the "heavy hand of the Feds" has attempted to intervene to reduce the rise in health care spending (the short answer is not much).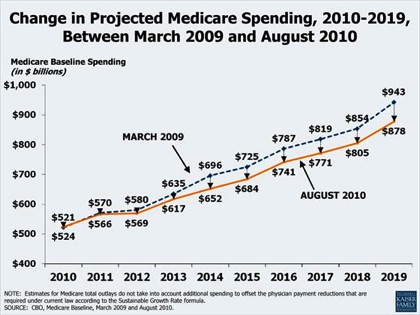 Kaiser Slide 3: Medicare Spending is All Over the Map!
The final slide shows how average Medicare spending varies more than threefold depending on where someone lives.  The reasons for this variation have been debated and are complicated but overuse of services (e.g. doing things of little or no benefit to patients) is a major cause.  This data also suggests that if more conservative and coordinated practice styles were adopted nationally there could be substantial cost savings for the country with no decrement in the quality of care provided to patients.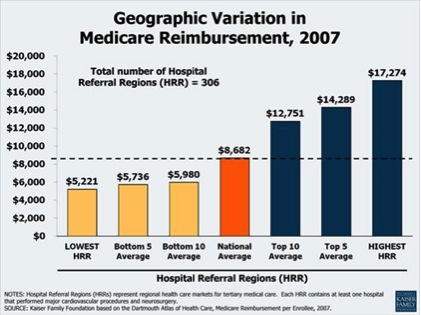 Summary
Health care spending in general and Medicare spending are complicated and emotional topics.  The points I want to emphasize via the 5 slides above include:
Spending is rising and the trends are not sustainable.
The "government" is heavily involved in medical spending.
There is wide regional variation in spending per patient that is not related to patient outcomes.
In future posts I will offer some ideas about what could be done to restrain government spending on medical care and help solve the long term budgetary challenges associated with these spending trends.  Believe it or not there is one federal program that is a relative model of efficiency.   More on that later, but there are models out there that work.
This entry was posted on Monday, February 25th, 2013 at 6:17 am and is filed under Current Events, Health Policy. You can follow any responses to this entry through the RSS 2.0 feed. You can leave a response, or trackback from your own site.
Leave a Reply
LIKE MIKE

SUBSCRIBE TO RSS

GET NEW POSTS BY EMAIL

Pages

Categories

Archives