Exercise and School Performance
Last Fall I reviewed some of the risk factors, including inactivity, for Alzheimer's disease and cognitive decline with aging.   In this short post I want turn the discussion around and highlight a couple of things related to cognitive or even school performance and physical activity in kids.  My interest in this topic was stimulated by a news report of a study in Denmark showing that kids who walk or ride their bikes to school concentrate better.  This stimulated me to look a little more about what research tells us about physical activity and school performance.
Study 1:  Walk and read better.
A single 20 minute session of brisk treadmill walking improves academic performance in pre-adolescent children especially reading comprehension.   Here is a figure from that study.  The filled bars are the scores after walking and the open bars are the control scores.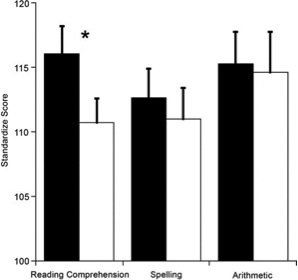 The authors concluded that:
"Collectively, these findings indicate that single, acute bouts of moderately-intense aerobic exercise (i.e. walking) may improve the cognitive control of attention in preadolescent children, and further support the use of moderate acute exercise as a contributing factor for increasing attention and academic performance. These data suggest that single bouts of exercise affect specific underlying processes that support cognitive health and may be necessary for effective functioning across the lifespan."
Study 2:  A review of physical activity and academic achievement.
This paper is a review of ideas about the so-called academic achievement gap in school performance by some ethnic and socioeconomic groups.   Based on the data surveyed the following conclusions emerged:
"Physical inactivity is highly and disproportionately prevalent among school-aged urban minority youth, has a negative impact on academic achievement through its effects on cognition, and effective practices are available for schools to address this problem. Increasing students' physical activity and physical fitness can best be achieved through a comprehensive approach that includes physical education, wise use of recess and after-school times, co-curricular physical activity opportunities, and bicycling or walking to and from school."
Study 3:  Exercise helps kids with ADHD focus. 
This study used a walking protocol similar to study one highlighted above in 20 children (8-10 years old) with ADHD and found:
"Following a single 20-minute bout of exercise, both children with ADHD and healthy control children exhibited greater response accuracy and stimulus-related processing, with the children with ADHD also exhibiting selective enhancements in regulatory processes, compared with after a similar duration of seated reading. In addition, greater performance in the areas of reading and arithmetic were observed following exercise in both groups. These findings indicate that single bouts of moderately intense aerobic exercise may have positive implications for aspects of neurocognitive function and inhibitory control in children with ADHD."
Summary:  Physical activity is emerging as a key modulator of academic performance and learning among children of all sorts.   It also appears to be a gift that will keep giving.  In a study from Scotland, 11 year old children studied in 1933 and also studied again 68 years later at age 79 showed that physical fitness early in life was associated with successful cognitive aging.   The policy implications of the findings highlighted above for things like physical education in school, recess and public policies aimed at getting kids moving are pretty striking.   If we want a smarter world we need a fitter world.
This entry was posted on Monday, February 11th, 2013 at 5:24 am and is filed under Current Events, Research and Health. You can follow any responses to this entry through the RSS 2.0 feed. You can leave a response, or trackback from your own site.
One Response to "Exercise and School Performance"
Leave a Reply
LIKE MIKE

SUBSCRIBE TO RSS

GET NEW POSTS BY EMAIL

Pages

Categories

Archives