Diet vs Exercise?
Over the last couple of weeks the focus has been on the combined problems of inactivity and obesity that are the dark side of technology and "progress".    Today's post is a short one and the question is can a high level of physical activity offset what might be described as a bad diet?
The figure below is from the Aerobics Center Longitudinal Study and shows how fitness and "unhealthy eating" interact in nearly 14,000 adults who were followed for up to 16 years.   People in the moderate and low fitness groups who also scored either moderately high or high on the unhealthy eating index have increased all-cause mortality.   For example, in the moderate fitness group, people who scored high for unhealthy eating had a 1.6 times greater all-cause mortality compared to people in the high fitness group who also ate well.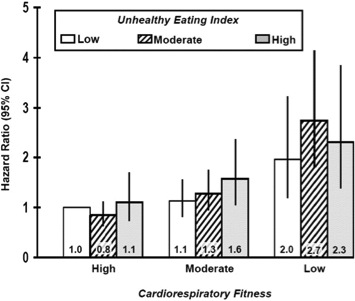 The authors noted that:
"One primary dietary pattern emerged and was labeled the Unhealthy Eating Index. This pattern was characterized by elevated consumption of processed and red meat, white potato products, non-whole grains, added fat and reduced consumption of non-citrus fruits. The hazard ratio for all-cause mortality in the fifth vs the first quintile of the Unhealthy Eating Index was 1.40 (1.02–1.91). This risk estimate was reduced by 13.5 and 55.0% after controlling for self-reported physical activity and fitness, respectively."
They went on to conclude that:
"A dietary pattern high in processed meat, red meat, added fats, non-whole grains and white potato products and low in fresh fruit was a risk factor for all-cause mortality. However, the diet-disease relationship was largely confounded by fitness."
Comment:  I am not advocating that anyone eat what might be called an unhealthy diet, but I think this study is important because it shows that exercise and fitness can limit the negative impact of a sub-optimal diet on mortality.   There may also be times in life (for example while traveling) when it is not possible to eat well and make healthy food choices, but perhaps it is possible to remain active and make sure you get a work out in.
This entry was posted on Thursday, September 13th, 2012 at 5:53 am and is filed under Current Events, Research and Health. You can follow any responses to this entry through the RSS 2.0 feed. You can leave a response, or trackback from your own site.
Leave a Reply
LIKE MIKE

SUBSCRIBE TO RSS

GET NEW POSTS BY EMAIL

Pages

Categories

Archives