A Holiday Gift For Your Athlete
I get a lot of questions about exercise equipment. What is the best exercise? How to workout on the road? What "should my kid be doing to improve" etc.   There is one simple answer to this question and it is also an ideal gift for almost anyone with fitness or athletic goals regardless of age who does not have too many orthopedic limitations. So what is the answer?
Get a Jump Rope and use it!
Jumping rope (or skipping rope) is outstanding for general conditioning. It can be used to generate an aerobic workout and you can things like minute on minute off intervals skipping rope. Skipping rope also develops footwork and balance. For younger athletes these are skills that carry over to almost all sports. For middle aged and older people these skills are critical to ward off things like frailty and falls.   Jump ropes are also cheap, portable, and don't require a lot of space. The video clip below shows some classic footage of boxers jumping rope. Note especially the foot work and wild routine of the great Sugar Ray Robinson.   Later in the video you can see Bernard Hopkins who keeps fighting at age 50.
click for video
What kind of rope?
I have a 40 year old Everlast leather jump rope with ball bearings that my mother got me sometime in the early 1970s. This is the type of rope the boxers use and it has stood the test of time. It is also a beautiful piece of functional industrial design. But almost any rope will do.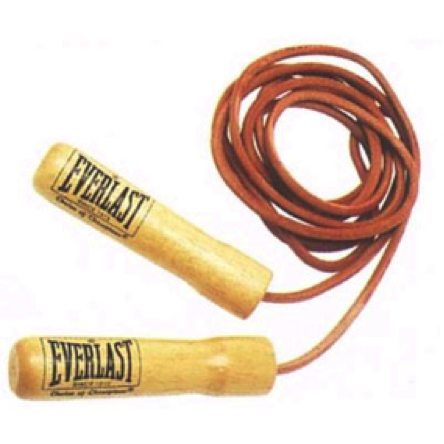 No barriers
The specifics of skipping rope aside it is important to remember that you don't need much if any equipment or space to develop an outstanding and effective whole body exercise routine. Skipping rope along with some simple calisthenics is free, can be done almost anywhere, and requires minimal equipment. The key requirements are simply self-discipline and motivation.
This entry was posted on Friday, December 12th, 2014 at 2:30 pm and is filed under Current Events, Elite Sports Performance. You can follow any responses to this entry through the RSS 2.0 feed. You can leave a response, or trackback from your own site.
4 Responses to "A Holiday Gift For Your Athlete"
Meegan says:
Mark Sobus says:
Leave a Reply
LIKE MIKE

SUBSCRIBE TO RSS

GET NEW POSTS BY EMAIL

Pages

Categories

Archives